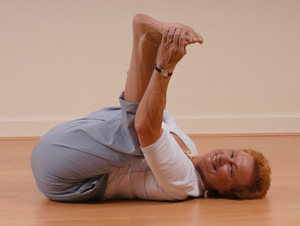 Hasya (Laughter) Yoga is a simple, yet profound aerobic exercise which combines yoga breathing techniques (pranayama) and playful laughter exercises that are designed to train your body to laugh without depending on jokes or humor. Laughter Yoga is not as physically demanding as Hatha Yoga, but the benefits are many: reduces stress, lowers high blood pressure, relieves depression and anxiety, boosts the immune system by raising the serotonin level in the blood, produces endorphins (happiness chemistry) in the brain, and makes you feel good. For more information about Laughter Yoga, go to www.laughteryoga.org or www.laughangeles.com
Roni* (a certified Laughter Yoga Leader), offers a Free Laughter Club meeting where she teaches Laughter Yoga (no children under the age of 8 please) every Saturday from 12:30 -1:15 PM at Camarillo Yoga Center, 5800 Santa Rosa Road, Suite 127, Camarillo.

For a listing of all the other yoga classes visit: www.camarilloyoga.com.

Hatha Yoga (asana practice) combines energetic postures with yogic breathing, meditation and relaxation. Hatha Yoga can improve strength, stamina, flexibility, balance and coordination. It also reduces stress, boosts the immune system and produces an inner calm by harmonizing body, mind and spirit.
For a listing of yoga classes visit: www.camarilloyoga.com.