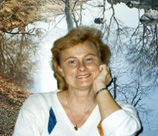 The way to stay young at heart is to be involved in the things you love.
Roni*s formal training includes a BA in Italian (University of California Santa Barbara, 1989), a Masters degree in Speech Communication (California State University Northridge, 1993), a Laughter Yoga Leader Certificate (with Dr. Kataria, 2006) and a Laughter Yoga Teacher Certificate (with Dr. Kataria, 2007).
Roni* presently teaches Hasya (Laughter) Yoga,* Hatha (asana practice) Yoga,* and Conversational Italian (as a private tutor).
Roni* writes poetry and enjoys other people's poetry, too. See the Poetry page for some great poems.